All About Bathing Your Baby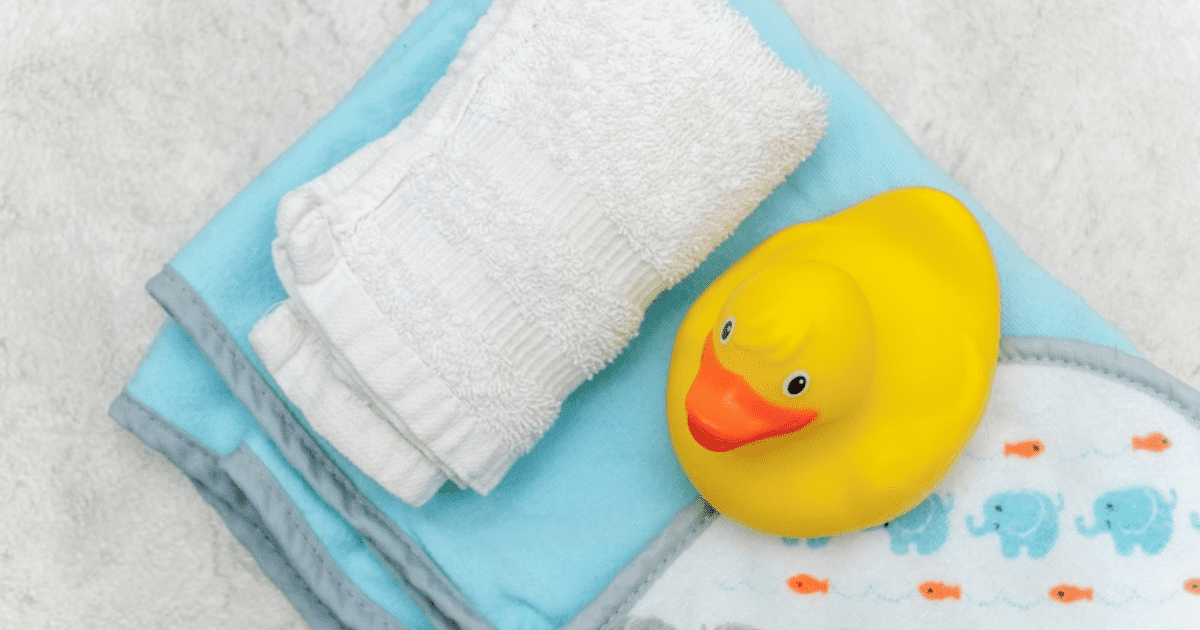 You and your sweet new bundle are home from the hospital and finally figuring things out together. Each new day brings its own set of firsts for both of you. You may be nervous about some of the tasks you are facing, and that is completely normal. Every mother on the planet has been a first time mom, and we all face these same challenges. When I brought my son home I realized, there's a lot to this new mom thing that I hadn't even considered before.
When it was time for his first bath, I was worried about the things that could go wrong. I discovered years later that most moms feel this way. "What if I do the wrong thing? How do I hold the baby, wash, rinse, and dry him, without him slipping?"
In this article we will share some helpful info about bathing your baby.
When should the first bath take place?
The World Health Organization recommends waiting to give your new baby a bath for at least 24 hours, while some other organizations suggest waiting at least 48 hours. There are many benefits to delaying the initial bath for your new baby. Vernix, the thick white protective coating your baby is born covered in, contains antioxidant properties and protects your baby from harmful bacteria. It regulates moisture and keeps your baby warm. This is beneficial because newborns are not yet able to control their body heat like an adult. Some parents even wait between 10 days and three weeks for their baby's first sponge bath at home. 
There is no need to give your newborn a bath every day. Two to three times per week is sufficient until your baby becomes mobile. Bathing your baby too often may dry out their skin.
What items should I have ready for the baby's bath?
I learned quickly that preparedness is so important for bathtime. Since none of us are growing an extra arm anytime soon, be sure to have the essentials:
a washcloth
a towel (ideally hooded for warmth)
gentle baby shampoo and soap (unscented is best)
wipes
a diaper
clothes
I found that my son preferred warm towels and clothes once he was out of the bath, so I would toss his towel and clothes into the dryer before we started, giving him extra warm comfort. You don't have to do this, but it's a sweet bonus.

If you are nervous about the first bath, and you also have a postpartum doula supporting you in your home, be sure to schedule bath time during her visit. This way you'll have her support to guide you through it. 
What bathing methods can be used?
We started with sponge baths for the first week or so, until my son's cord detached, as recommended by our care provider. A sponge bath does not require that you submerge your baby in water. Instead you can just gently wipe your baby down with a soft cloth. I preferred to lay my son on the pad from his changing table with a soft cloth protector. Any warm flat surface like a blanket or towel will work. Be sure to keep one hand on your baby at all times. Fill a bowl or small basin with warm water that you can use to gently wash the baby using the cloth in your free hand. Make sure the water is warm, not hot! A tub at 100℉ is a good safe temperature for your newborn.
Once his cord came off, he was ready for a tub bath. Make sure to have the essentials ready before the bath begins so you never leave the baby unattended in the water. About 2 in, or 5 cm of water around 100℉ is sufficient for your baby's bath. I recommend placing a clean towel in the bottom of a plastic bathing tub or sink to help prevent the baby from slipping.

There are also some products on the market you can check into to help make bath time easier. These adorable baby bath pads are a wonderful option and these foldable tubs fit right in the sink. 

When my son began sitting up on his own, we transitioned to the bathtub and used a laundry basket to prevent him from slipping into the bath water. If I had known about these secure bath seats, I believe it would have made the transition to the bathtub much easier!  
How do I place my baby into their bath?
When placing your baby into the bath, be sure to securely support their head and neck with one hand and use the other hand to slowly guide their body into the water. Keep in mind that the warm water may relax your baby and cause him to pee. This happened many times with my son, and I learned to be ready for the stream!
How do I bathe my baby?
Washing your baby from the head down will keep the rinsed parts of his body from getting soapy again. When it is time to wash his hair, gently massage one drop of mild baby shampoo onto his scalp, and rinse with a cup or cloth. Cupping a hand over his eyes will help to keep water and soap from pouring onto his face. Most babies do not need lotion after the bath, however if your baby has very dry skin, lotion can be used in small amounts.
When is the best time of day for a bath?
Every family has their own routine that works for them. Some find it beneficial to do bath time in the mornings when your baby is more alert, while others prefer a soothing bath as part of the bedtime routine. There is no right or wrong time to bathe your baby.
You did it mommy. Your baby is now fresh and clean, and you didn't need a third arm to bathe him! Facing these new tasks each day will help you to grow into the parent you were born to be. You can tackle the next challenge knowing how easy it really was to bathe your baby!

By: Alisha Vought